Pickleball Lessons,Clinics,Round Robins and Player Development
Welcome!  We're excited that you're interested in learning about pickleball and taking your game to the next level.  Whether or not you're brand new, or seeking to improve parts or all of your game The Red Deer Pickleball Club coaching team is here, ready and with their paddle up to help!  We have 6 certified instructors that will follow NCCP / IPTPA programs, and we have a Pickleball Pro, as of 2023,  who gives us consistency thru all developmental programs.
See below for more information on our programs, lessons, round robins, clinics and the Sign Up Genius (SUG) link to register.
NOTE: Some clinics are now being created for the 2023 season at Bower Place. Click on the above link to see what is available.
Join Our Team
Do you have a passion for pickleball and want to share your love of the game with others?
Look Here To See The Opportunities We Provide
We use Sign Up Genius(SUG) for event notification and registration. You will receive an invite from Red Deer Pickleball to participate in upcoming clinics, lessons, round-robins, events etc.  If you haven't received it check your spam folder.
What is Sign Up Genius? Click here to learn more. 
Ready to sign up for a lesson, clinic, round robin, or events organized by RDPC?   Check out the various opportunities listed to below to learn more.
Registration can be done using either of the buttons below or on the link provided in the event description.
These are the following skill development options available for the season (click headings for more information)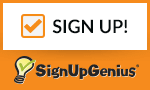 Our first program is Let's Play Pickleball. This program is designed for new players or beginners that want to learn the game of pickleball or just improve their skills. We will be using the NCCP instructional platform.
The continuation is the Ambassador Program. The purpose of the Ambassador Program is to support new players to learn how to play the game, improve their skills, and have fun. Coaches will offer gentle correction and encouragement - show players how to execute proper ready position, dink shots, serves, and scoring. Provide guidance on pickleball rules and etiquette. The focus will be on the basics of the game.
 
Group Lessons Monthly!
Progressive lesson Group 1 2.5 /3.0 players
Progressive lesson Group 2 3.5/ + players
4 Pack of Lessons, starting strong to the end of the game
Semi-Private Lessons/Mentorship Play