Good day fellow pickleball members of the Red Deer Pickleball Club.
As you may be aware our club will be hosting the Canadian National Pickleball Championship August 10-15th,2021 at Motorworks Field in Red Deer.
It will be a grand event to showcase our wonderful facility and welcome hundreds of participants from across Canada.
I (Rick Foret) am the volunteer coordinator for this amazing event and while the official event is still over a year away we must start building a team of people to assist with this massive undertaking.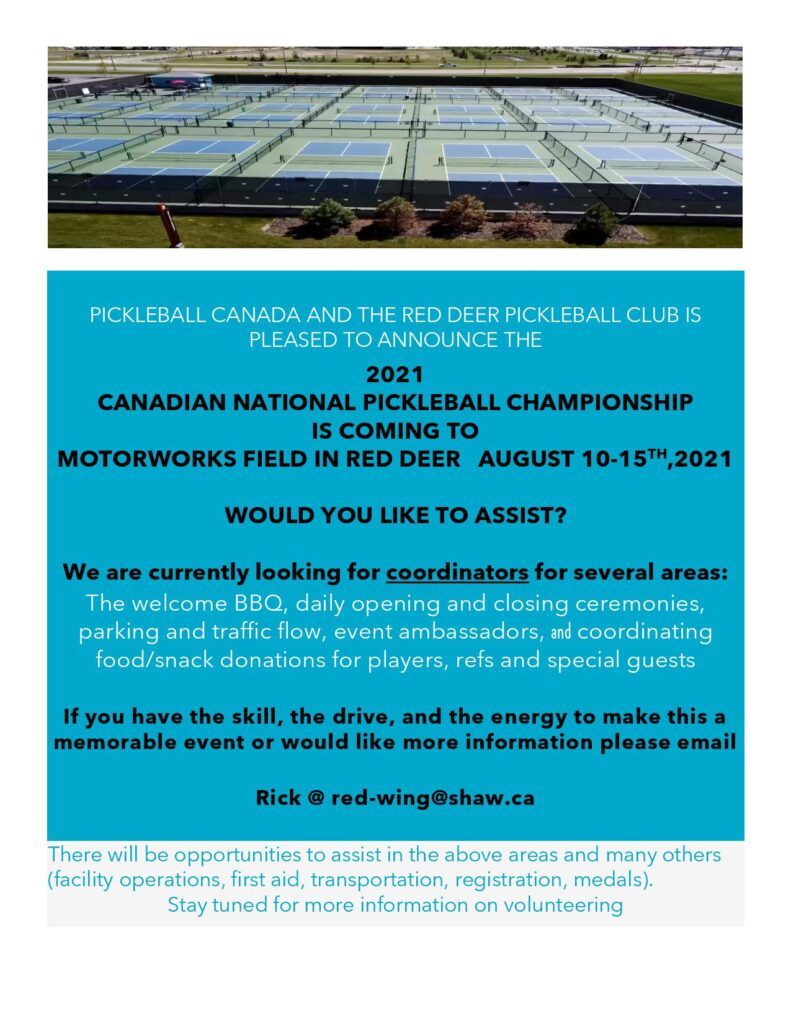 There will be many ways to get involved and I know everyone will want to assist in some capacity where ever possible.
I inviting all members to offer their talents to make the 2021 National Championships a great success!
As a result, I am sending out the first of several requests for volunteers. The attached flyer seeks individuals in the role of coordinators ( who will oversee a key feature of the event such setup, arranging for supplies, and overseeing other volunteers).
It will require people to be organized, energetic, and work well with various groups of people. You may know of someone who could co-coordinate the area or you may be able to encourage some fellow members to join your "team".
Please review the flyer and see if any of the areas mentioned would be of interest to you to coordinate. I will do my best to answer any email questions on a specific role.
I look forward to hearing from you!
Thank you